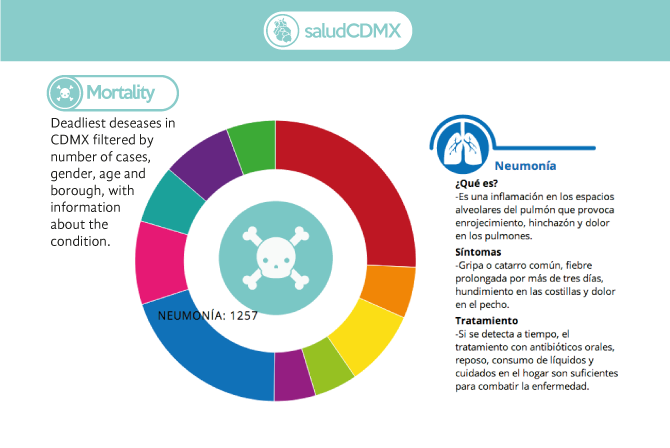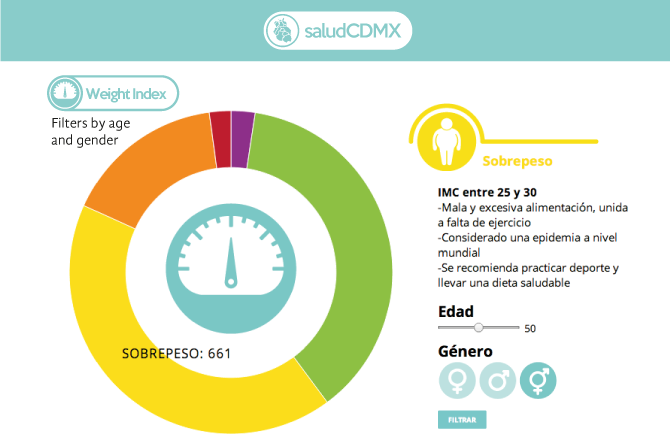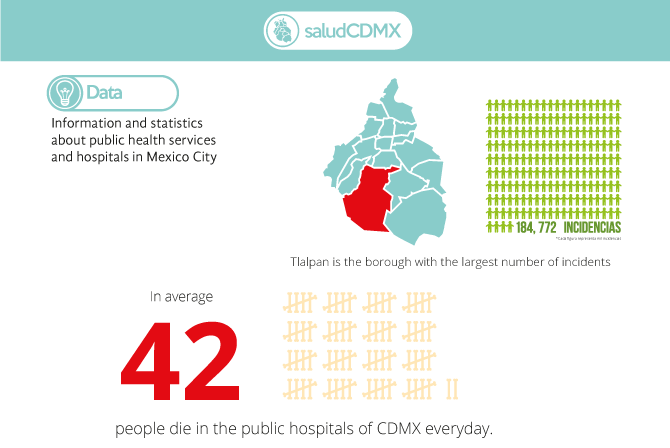 Information Design
Salud CDMX
SaludCDMX is an interactive platform created for the exploration and analysis of complex data from the public hospitals and health-related facilities in Mexico City. Its main objective is to help process numbers, show statistics and provide an intuitive and manageable solution for the great amount of information produced by the Public Health Ministry open databases; it is developed to function as an strategic tool to predict trends, understand social, geographical and collective behaviors and aid the government in taking important decisions for the improvement of services, healthcare planning and optimization of resources.
The system can be automatically fed and updated from the existing files and formats used by the government officials, nurses and doctors in the public hospitals without having to make external efforts. Thanks to its design and user-centered approach, the platform can filter different data and create visualizations adapted to the needs and questions of the person interacting with it; it is capable, for example, of showing a list of the most frequent diseases and indicate their presence depending on factors as age, gender, body mass index, month of the year and even city borough. This information could be used to control the spread of certain viruses, target epidemics, create personalized prevention programs to tackle the deadliest diseases depending on the urban area and get a general panorama of the health situation in Mexico City or elsewhere.
With a simple and yet attractive graphic proposal, SaludCDMX presents relevant and meaningful results in an user friendly way using information concealed in the indecipherable and extensive databases. Its interface allows a dynamic interaction with the graphs and figures, giving users the opportunity to modify and update them in real time and making all the unconnected parts of the immense public health system visible and easy to understand.
This project was awarded the Honor Mention at HackDF 2014, a contest sponsored by the Mexico City government where the main challenge was to give, in less than 72 hours, creative and innovative solutions for city-related complex problems with databases provided by different ministries. The team, formed by two designers and two programmers, conceived the idea as a group after a throughout exploration of the different possibilities; afterwards, Andrés and I took the responsibility to develop the front-end and user experience solution, while Alan and Guillermo worked on the back-end functionalities.
Awards:

Honor Mention at HackDF

Collaborators:

Andrés Cacho, Alan Rodríguez, Guillermo Hernández

Client:

Contest sponsored by the Mexico City government

Date:

01/2014